The Week of the Young Child™ April 16-20, 2018 is an annual celebration hosted by the National Association for the Education of Young Children (NAEYC) celebrating early learning, young children, their teachers, and families. Our team at Bubbles Academy is proud to join this celebration  of all things little ones and share our passion for developmentally appropriate practice, early brain development and child-directed play.
Look for our posts on Facebook and Instagram each day! We hope to see you joining in on the #woyc2018 fun online, or in person at Bubbles Academy!
Music Monday! April 16, 2018
Sing, dance, celebrate, and learn
"Through music, children develop math, language, and literacy skills – All while having fun and being active!" – NAEYC

You don't need fancy instruments… grab some paper towel rolls or spoons and sing along with Miss Kim! Check Facebook and Instagram for a sing(or tap!)-along video on Monday!
Tasty Tuesday April 17, 2018
Healthy eating and fitness at home and school
"This fun, food-themed day is about more than just cheese and crackers. Cooking together connects math with literacy skills, science, and more. With the rise in childhood obesity, you can encourage healthy nutrition and fitness habits at home and in the classroom." – NAEYC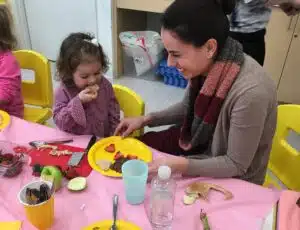 Join us for our monthly Healthy Kids Cooking Class, Tuesday 4/17 from 11:45 – 12:30
Allison Zalay, a Registered Dietitian Nutritionist will lead you and your child through a hands-on 45-minute class to encourage nutrition education through cooking. Learn positive eating strategies and skills to help promote healthy growth and development. Caregivers will learn and engage in strategies, interactive cooking lessons, and activities to boost your child's nutrition education. Each class includes a recipe, snack, activity, and take-home worksheet to promote healthy eating at home.
>> Register here
Work Together Wednesday April 18, 2018
Work together, build together, learn together
"When children build together they explore math and science concepts and develop their social and early literacy skills." – NAEYC
Our preschoolers have been doing exactly this- working together every day to build elaborate structures out of blocks to inspire dramatic play. Our three year and four year old classrooms get lots of chances to come together to play and explore each day. A mixed age environment helps to build empathy, communication and leadership skills for all of our little ones. The more the merrier!
Artsy Thursday April 19, 2018
Think, problem solve, create
"Children develop creativity, social skills and fine motor skills with open-ended art projects where they can make choices, use their imaginations, and create with their hands." – NAEYC
All day, everyday! Bubbles is ALL about the joy and learning children experience when engaged in creative art making. Art comes from seeing beyond the literal, to externally express the internal. We're told to think outside the box, but rarely are we taught how. Our resident art-project expert, teaching artist Miss Brittny is sharing one of our favorite at-home art project ideas that does exactly that… Repurposing common household or everyday items to make art! Break the rules, and paint with shoes, cups, whatever you can find! Check Facebook and Instagram Thursday for a video demonstrating this fun art project.
Family Friday April 20, 2018
Sharing family stories
"Engaging and celebrating families is at the heart of supporting our youngest learners. NAEYC applauds family members' role as young children's first and most important teachers." – NAEYC
We ♥ our Bubbles Families, and we salute and celebrate the hard work and endless amount of love you pour into your children and family!