I take you to Purple Food Day in our Kids Cooking Class: Taste Buddies — the eggplants are sliced, the Parmesan cheese is cut into small chunks, and eight perfectly portioned cups of cider vinegar sit on the table. The purple food and its companions are waiting to be poured one by one into the big pot of simmering butter, apples and onion!
This fall, we've been cooking through the rainbow — ROYGBIV is not just for art class! Each week, our students and grownups celebrated a new color together. Red Week introduced garlic bread tomato bites, Orange Week asked that we bake homemade sweet potato fries, and Blue Week intrigued all our students with blue corn pancakes! We also embraced the weekly color through beverages — fresh flavored juices like Pomegranate Cherry Spritzer, Apple Cider and Orange Juice.
As a teacher in the classroom and also at home in my kitchen, choosing a theme or a set of guidelines is tremendously helpful when making a menu. Working through the rainbow with our recipe selection has been a colorful and curiosity-building journey – children received the opportunity to not only play with their food, but to also notice what makes it unique!
What's the difference between an orange sweet potato and a brown bakers potato? Why is goat cheese soft and Parmesan cheese hard? Can a pancake be sweet and savory at the same time?
By having rainbow themed food, we were able to ask and answer such questions while also making balanced and interesting meals. Children will always question the ingredients, and we certainly had our fair share of turned-up noses and firm head shaking. However, our mini-chefs were so much more willing to eat (or at least try) the food that they themselves had helped to create.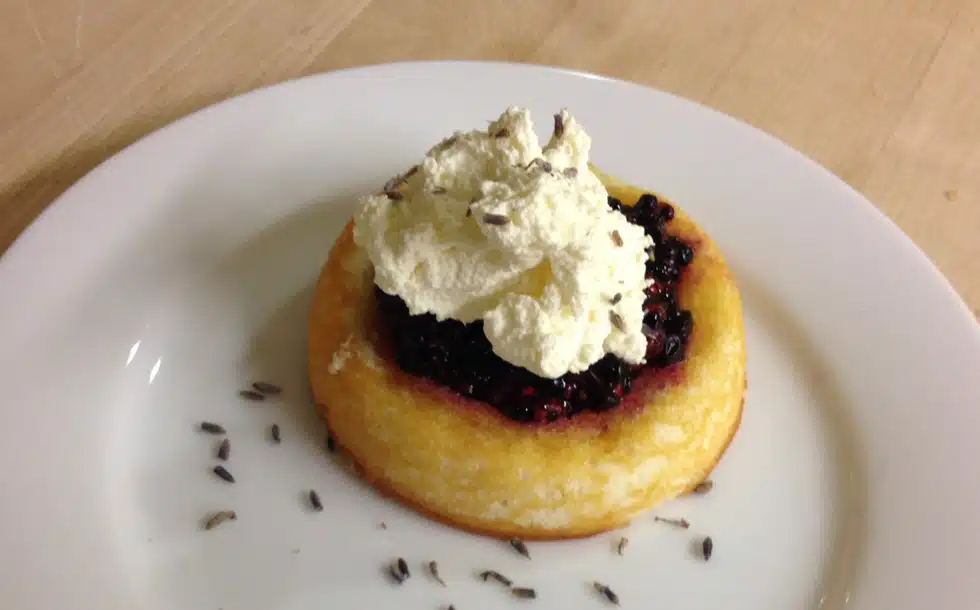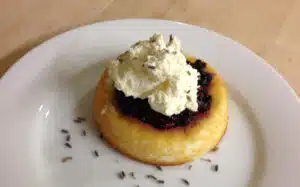 On Purple Food Day, it was amazing to watch usually picky eaters see an eggplant for the first time or chop their own red cabbage, and then, like the magic of the rainbow, taste them with pride!
See below for the recipes from our Purple Food Day Menu — berry rich and veggie wonderful! Tweet @BubblesAcademy with your favorite bright hued recipes. What did or didn't your child respond to? We'd love to hear!
Berry Shortcakes with Lavender: A Miss Lina Original
Serves 4
Individual dessert cakes, or slices of pound cake
Mixed berries (black berries, raspberries, blueberries, strawberries, etc.)
Whipped cream
1 tbsp dried lavender buds
Mash berries until juicy and slightly broken down.
Pour berries onto dessert cakes, top with whipped cream and garnish with lavender buds.
Warm Red Cabbage Slaw: Adapted from MartaStewart.com
Serves 4
1 tbsp butter
¼ red onion, thinly sliced
1 honey crisp apple, halved, cored, and diced
½ head red cabbage (1lb), cored, quartered and thinly sliced
Coarse salt and ground pepper
2 tbsp cider vinegar
2 tbsp sugar
¼ cup water
In a large, heavy bottomed pot, melt butter. Add onion and apple. Simmer until apple has broken down and is very soft.
Toss in red cabbage, salt and pepper, cider vinegar, sugar and water. Bring to a boil then reduce to a summer and cook for at least 25 minutes, or as long as an hour. Enjoy warm or chilled.
Eggplant and Tomato Bites: Thanks to Laylita's Recipes
Makes 6-8 bites
1 medium sized eggplant, sliced into ¼" thick rounds
2-3 tbsp olive oil
2-3 tomatoes, sliced
½ cup grated Parmesan cheese
4 tbsp mayonnaise (or substitute with cream cheese)
2 garlic cloves, minced
Fresh dill to garnish
Salt and pepper
Toss sliced eggplant rounds with olive oil, salt and pepper.
Grill until the eggplant rounds are cooked — about 5 minutes on each side.
While eggplant is cooking, combine Parmesan cheese, mayonnaise, garlic, salt and pepper in a small bowl and set aside.
Slice tomatoes into rounds.
Arrange eggplants rounds onto a plate and top with a slice of tomato and a generous dollop of Parmesan mixture. Garnish with dill. Enjoy warm or chilled.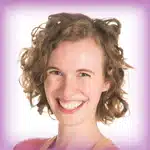 Lina Chambers
Lina Chambers is an Idaho girl, but she loves more than just potatoes! Her teaching experience began when leading workshops for elementary aged students that focused on imagination and creating character. Her inspiration when in the classroom and the kitchen comes from watching plays, reading cookbooks and interacting with her Preschool Alternative and Preschool Separation students. Be sure to ask Lina about her latest cheesecake experiments!