Two wonderful things that come with spring — the opportunity to stride the streets and window-shop in the sunshine (at least that's the hope, Chicago), and to pull out, replace and refresh your warm weather wardrobe. That includes the kiddos too. Peek in their closets and see what's missing and then make way to Bucktown's newest baby-&-kid-riffic boutique — Peek…!
Located at 1723 North Damen, Peek hails from San Francisco, and is described by the SF Gate as "… whimsical, vintage-inspired upscale junior clothing brand …"
Be introduced to the Peek clothing line and it's playful point of view at a special shopping event on Wednesday, April 30 from 6-8 p.m. (ALL ARE WELCOME – please RSVP to [email protected])!
The Peek clothing brand's Founder & CEO Tina Canale is hosting this sneak peek party. Her mission with Peek was to create a children's clothing line with " … personality, sophistication and the kind of quality that will hold up through some really fun play dates." 
Canales is joined by three savvy Chicago co-hosts: Kelly Aiglon (Managing Editor at Red Tricycle), Johanna Grange (Founder of 101 Things I Love), and Kara Gordon (Owner of Magnificent Milestones).
Meet the hosts Wednesday night, a dynamic mixture of everything — mom/ writer/blogger/event-extraordinaire. A portion of the evening's proceeds will benefit Snow City Arts, who provide hospitalized Chicago children with one-on-one instruction in the visual arts, creative writing, music, theater, and film making.
The Bubbles Academy team shares a common belief in celebrating the arts and enabling children's healthy desire to play. We love that Peek clothing and each of these women model this positive attitude in their everyday. Check out the following Q&A with Kelly, Johanna and Kara!
How does style and creativity play into your professional life? Where does your inspiration come from?
Kelly Aiglon: I work from home, with occasional travel to our home office in San Francisco, so I'm generally pretty casual and stick to jeans and Threadless tees. But when I go out I tend to combine soft and hard looks because the sweet-meets-edgy thing fits my personality. So, Doc Martens or metal-studded heels with a black leather skirt and then a frilly top to juxtapose. I also love the '80s and wear anything from that era … within reason.
Johanna Grange: Most of my inspiration comes from two places: my children and fellow bloggers. I don't have time to read magazines anymore hence my fellow bloggers and Pinterest help steer the ship when my brain is stumped. Like Monday mornings. My children inspire me because their world is so colorful. Every print and pattern work together – I love the whimsical attitude they have towards life reminding me to not take it so seriously. Whether I'm creating a blog post or approaching a tough client – both force me to think outside of the box.
Kara Gordon: Style and creativity is the key to my professional life. Every client brings the opportunity to try something new and exciting, to think outside the box and color outside the lines. I pull inspiration from everything: a magazine cover, a garden, and (of course) Pinterest.
The following quote is featured above the doors of Peek's Seattle Store, "People tend to forget that play is serious" – David Hockney. How does this idea relate to our (and your) present day?
Kelly Aiglon: Hmm, don't know because I can't relate! I think play is fun and chose a career based around play and my kids so I never really have to be serious (:
Johanna Grange: This really resonates with me. I think that life is all about balance, and it's very easy to be caught up in it and being a responsible adult. Taking time to "play" or unwind as it were is an equal priority in our house or at least one we have to constantly remind ourselves of. Sometimes I need to put down the phone and close the laptop.
Being present with my children is when the best moments happen.
Kara Gordon: A life of all work and no play isn't a life at all!
I remind myself daily to work hard and play harder.
The benefiting organization of the April 30th shopping event is Snow City Arts. How did the arts influence you as a child and ultimately what you chose as your career?
Kelly Aiglon: The arts mean everything to me. I've always devoured books and devoted my career to writing. Music is even a bigger love; I couldn't live without it. So, around our house there are tons of books and Spotify or Songza is always on. It's very important that my sons are exposed to the arts, and I have a deep appreciation for what Snow City Arts is doing.
Johanna Grange: Gosh, so much. I miss the arts! I grew up taking art & writing classes and then I discovered ballet and it was over. I was a die-hard ballet aficionado all the way through college and then reality and responsibility set in.
I love the sets, the costumes…it moved me. I want my girls to have that escape. It's so healthy. Today I still tap into my creative writing with my blog and thank goodness for that. It's a hobby I'll never retire from!
Kara Gordon: Growing up, art class was my favorite.  There were no wrong answers, no rules, just fun. When I realized I could have a career in something "fun", I was full steam ahead.
Thank you to Kelly, Johanna, and Kara for sharing their special insight! We're delighted to welcome the specialties of Peek with them — from 6-8 p.m. on Wednesday, April 30 at 1723 N Damen. Please RSVP to [email protected]!
Bubbles Academy's Miss Lauren and Miss Veronica will be performing at Peek on Saturday, May 3 in the afternoon — shop and sing out with us!
Snaps to SkirtPR for their event planning and introduction of Peek clothing!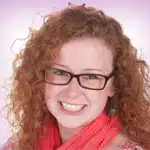 Bethany Schreck
Bethany Schreck is our #1 cheerleader as Communications Manager. Her expertise in branding and love for youth-oriented organizations makes Bubbles Academy the perfect platform to message for as a designer, writer and a firm believer in the power of the imagination.