Get the most out of your Bubbles Academy membership and other perks with Miss Natty's Bubble Hacks for Winter!
Time seems to speed up each day! While enjoying the challenges of running a business, holding on to my creative side and preparing to become a family of 3 (yay!!), I'm always looking for ways to maximize my time and resources. I'd love to invite you to get the most out of your time with your little one(s) and take advantage of the services and community at Bubbles Academy!
xo-

Open Play 7- days per week! Our Open Play spaces are open to the public and drop-in playtime may be purchased for $12 per visit. However, enrolled families receive complimentary Open Play for the full session (or season, if you have purchased a Flexible Class Pack).
Here are our Open Play times:
Downstairs Meadow Room: Monday, Wednesday, Friday – 1pm-5pm
Tuesday, Thursday – 1pm-6pm
Upstairs Mountain Room: Saturday – 1-5pm (This is a popular day for Open Play, with lots of children and families playing together, so if you prefer a quieter playtime, we recommend calling ahead to check on capacity).
Sunday – 10am-5pm
Pro tip: Out running errands in the neighborhood? Even if you're not in the mood to stop and play, enrolled families are welcome to pop in at any time to change a diaper (we have 6 changing tables), warm up a bottle or nurse privately in our upstairs lounge. We love the Mommy Nearest app for finding quick fixes while out and about!
Sibling Care – Share Bubbles Academy with the whole family! Families with more than one child are welcome to take advantage of our complimentary sibling care. Let big or little brother or sister play with one of our conscientious caregivers while you enjoy some one on one time in class with your other child. Available Monday-Friday – please call ahead to reserve your spot!
Pro tip: Looking for a suggestion for a child's birthday or holiday gift?  Check in with our toy experts in the play center!  They'll be able to recommend our most popular, developmentally appropriate toys and where to find them.
Live Music! We love providing as much exposure to live music for our little ones as possible.
You can catch Bubbles Academy musicians weekly:
Tuesdays: At Monica + Andy. Join Miss Alexis for this interactive concert at 10:30am! $10 to drop in. As seen on Red Tricycle!
Wednesdays and Thursdays: At the Whole Foods Lincoln Park atrium. Miss Lauren and Miss Alexis love rocking out with their great crowd of kiddos and families at Whole Foods each week! Join them at 10am for a ½ hour of singing and dancing.
Saturdays: Family Jam at Bubbles! Join our music teachers for a drop-in concert every Saturday at 11:15am in our Mountain Room! $20 to drop-in or FREE for registered families
Pro tip: Want to make a day of your outing to Bubbles Academy? Please feel free to enjoy various play and lounge spaces around our space. We have snack tables and high chairs available for use as well as complimentary coffee. Hungry but didn't bring a lunch? Ask us to tweet at one of your favorite food trucks and they'll park right outside!
Stroller Fitness! Did you know that our very own early childhood and fitness expert, Miss Kim, teaches a Stroller Fitness class through Bubbles Academy every Monday, Wednesday and Friday?? This is an awesome workout – with the benefit of the flexibility of multiple caregivers onsite to provide great care of your little ones while you get to take some time for yourself with other moms. Kim is also a Lululemon Ambassador and teaches a FREE drop-in Stroller Fitness class at the Bucktown Lululemon at 9am on Tuesdays!
Inside Scoop on Special programs and discounts:
Click here to see the full listing of opportunities to save on your Bubbles Academy experience!
We also love hosting fabulous community partners in our space and offer an exclusive 15% discount on enrollment to families in attendance at Bump Club and Beyond events. BCB VIP's also receive a one-time $30 discount with their VIP membership!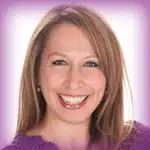 Natalie Monterastelli
Natalie Monterastelli is the Executive Director of Bubbles Academy and founder of Class Act, interactive education and events. She has a Master's degree in      Educational Theatre from NYU
 and is passionate about helping little ones develop through music, movement and drama.