When the pandemic started, the first thing we had to shut down were our events. When parties weren't possible – when we couldn't touch, hug, or even really see our loved ones – we started to reconsider what makes celebrations special and why gathering is important. We spent time looking critically at how we had been hosting, facilitating, and managing events, and what they should look like moving forward.
We discovered that the magic of an event isn't in the banners and balloons, but in the running, singing, and play.
Back in 2019, (pre-pandemic!) Bubbles set out on a mission to make parties more eco-friendly. We noticed that a lot of our events produced bags and bags of trash at the end of the day: popped balloons wasting helium, mountains of plastic forks and paper plates, single-use decorations being dumped in perfect condition. So we pivoted. We got a stock of linen tablecloths to replace our old plastic rolls; we created sets of decorations by color and theme that we could reuse for multiple parties; we started offering large water jugs to cut down on individually packaged water bottles. And this was working… until the pandemic.
During the pandemic we hosted dozens of virtual parties- something we had never even imagined before! It wasn't easy, and it took some creative approaches; but these celebrations became a true point of pride for us. Families that couldn't get together physically were able to share these moments of song, dance, and silliness. The feedback we got was incredible, but more importantly, it let us watch the connections our little ones created by celebrating.
As we saw that we would be able to begin gathering in person again, we had one important question to ask ourselves: HOW DO OUR PARTIES SERVE THE CHILDREN WE'RE CELEBRATING? Everything we do at Bubbles Academy is in service to the development of the brains, bodies, and relationships of our little ones, and we had an amazing opportunity to reconsider how our events are a part of that.
There are two main things we keep in mind when looking at how we make our parties play-based, eco-conscious, and child-focused:
Space: Instead of trying to offer it all, focus on what is special.
The environment is so important in creating the atmosphere for our kids to feel safe and celebrated. This includes age-appropriate invitations to play, room to explore, and colorful visuals to engage. The picture we may have in our heads of a "party" is filled with balloons and toys and streamers, but the reality is that too many options and extras can make the party stressful! Instead of trying to offer it all, focus on what is special. Don't get us wrong, we LOVE a good theme, and decoration options these days are beyond amazing; however, we challenge you to think about other ways to incorporate your theme in meaningful ways. One balloon of a favorite animal that can come home with you may make a bigger impact for your child than a great big display that's just going to get popped and thrown away at the end of the day!
Activities: Trying to fit everything into a party's schedule is more likely to make things muddled than it is to make things festive!
Similar to space, trying to fit everything into a party's schedule is more likely to make things muddled than it is to make things festive. While face-painters, balloon artists, and petting zoos are super fun for a carnival… for a birthday, spending 15 minutes waiting in line takes away from the time spent playing! For this age group, an open area with interesting landscapes, challenges for their bodies, and manipulatives they can engage is sure to capture their attention for every moment of the celebration! Whether it is Open Play, or you prefer to have a little more structure with a Teacher-Led portion of the party, we have tailored the way we play and the items with which we do so to the age group we celebrate!
Some of our discoveries this year were by happenstance: we had to have smaller parties to abide by city guidelines, but we saw that smaller groups created less overwhelming environments – especially for really little ones. Some changes were by design: we chose times of the day that didn't overlap with meals so that the kids had more time to run around without worrying about sitting to eat (especially as we were all trying to keep our masks on as much as possible).
Overall, we've seen a change in how we approach our events: Simple and open tends to be best! Our goal has always been to make parties smooth for families: from pre-party communication to packing things up at the end. We want families to walk in, enjoy the experience, and walk out happy.
The main thing we've taken away from this year is that no amount of extras can make or break the memories we create when we are able to be with the people we love most.
With that in mind, we are ready to party! Let's celebrate!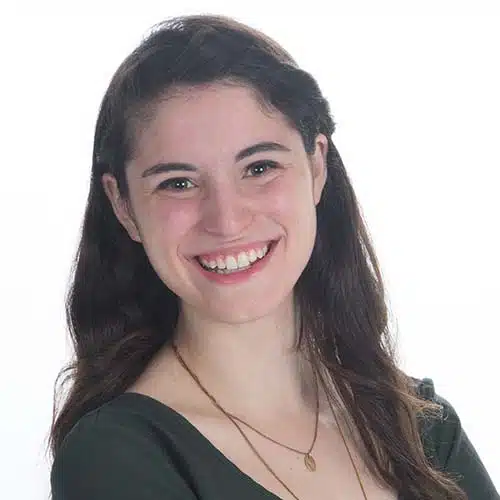 Amelia Bell
Amelia's been moving and grooving from day one. Her parents once told her that as a child she "wasn't content until she could walk on her own." Walking quickly turned into dancing, and she's never stopped. Originally from Houston, Texas, Amelia spent her childhood trying to do anything she considered "artistic" until finally finding her passion in theatre and dance. She graduated from Northwestern University where she was a Theatre major, Dance minor, and graduated with a certificate in Music Theatre.
Working at Bubbles is a dream come true! The mixture of imagination, adventure, art, and music is perfect for Miss Amelia's energetic and creative spirit. She has been working with young children since she was a teenager, and loves the opportunity Bubbles gives to combine her love of children with her love of the arts. When not working, she can be found on stage performing, teaching herself how to play musical instruments, and baking treats for friends!