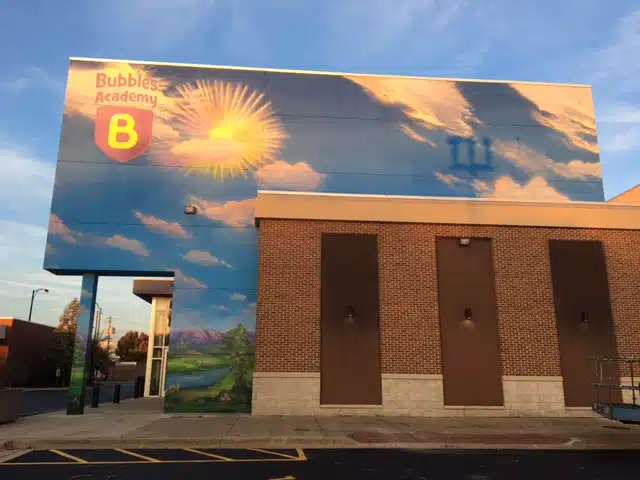 With the completion of this exterior mural and amidst the buzz of construction at 2184 N. Elston, we've crossed an important threshold where we can actually see that THIS IS HAPPENING! 🙂 The new Bubbles Academy is on its way and we will be announcing exciting details about our winter session and re-opening dates soon.
However, before we jump to celebrating, I want to send a BIG THANK YOU to everyone who has supported us along the way and enabled Bubbles Academy to continue carry on our mission to serve children and families. This absolutely wouldn't be possible without the friends who continue to help us along the way.
Nine months ago, we found ourselves at a huge point of transition. Due to multiple circumstances coming together in a perfect storm, we didn't know if Bubbles Academy would be around past June 2016. However, thanks to the support of so many wonderful individuals, our team AND all of you, we are thrilled to be taking our business to the next stage at
2184 N Elston in early 2017!
We will be opening registration for our January schedule on December 1st. In the meantime, we want to send our big thanks to:
Lindsay Pinchuk and Bump Club and Beyond – Lindsay and her team stuck by us through this transition, offering opportunities to our staff and continuing to plan for future collaboration. Lindsay is a constant cheerleader and role model for balancing work and motherhood.
2 Moms Media – Caitlin Giles and Sara Fisher are two of our trusted advisors and were some of the first people we confided in about our upcoming transition. As always, they were quick to help us strategize and problem-solve, offering contacts and connections to help us move forward.
Jane Nolan at Park West Coop – Jane has been a wonderful mentor to our team at Bubbles Academy. We appreciate her generous and welcoming spirit and will never forget the compassion and advice she shared with us as we navigated developments last spring.
Meggan Friedman – We've appreciated Meggan's long-time support of Bubbles Academy through attending classes and providing her perspective at partner events. Recently, she generously helped us to revise our business plan and helped to introduce me (Natalie) to the world of fundraising.
Chad Schiefelbein at Vedder Price – Chad has been a great supporter of Bubbles Academy for the past decade and we continue to appreciate Vedder Price's counsel.
Rebecca Gonzalez from Bucktown Academy & Jamie Thomas at VOCEL Early Childhood Center – Thank you to our peer preschools for providing helpful insights into their experience dealing with licensing and the process of developing in new locations.
Bob Ryan with Goldfish Swim School – Bob took time out of his day to listen to our situation and offered advice and contacts to help make the next steps of our transition run more smoothly.
Shannan & Matt Tarshis and Frontline Real Estate Partners – We serendipitously ran into the Tarshis family at an event last spring and Matt and his team quickly went to work to help us find our new location. We are thrilled at how their efforts turned out and can't wait for you to experience classes at 2184 N. Elston. – Thank you for all of your time and efforts in helping this come together for us, Frontline Real Estate Partners!
Thomas & Tiana Kubik and TK Photography – Thank you for capturing so many amazing memories in our previous home on Fremont, especially at our final, Farewell to Fremont event. We appreciate your friendship and support and look forward to continuing to work together!
Jimmy Carodine – Jimmy kept our Fremont location sparkling clean with his work every evening. Then, during our multiple moves this summer, he was a wonderful go-to, helping us by taking down shelves, speakers, doors and doing lots of heavy lifting and everything in between!
Shannon Valko and Rob Spangler and the team at Little Beans Café – We are so grateful for the way Little Beans Café in Lincoln Park and Evanston have been so flexible, supportive and welcomed us into their space for classes during our transition period. Not only did they extend their space, but also provided additional opportunities for our teaching artists to do what they love in extending opportunities to us to provide classes during their summer camp and concert opportunities at their events and during open play time.
Erin Woodhams and the British School of Chicago – Thank you to the British School of Chicago for opening their doors to us over the summer and providing us with three beautiful classrooms to use for our parent child classes! Looking forward to finding more ways to work together moving forward.
Neal Bader and the Menomonee Club of Chicago – The Menomonee Club has been a wonderful home for our art and preschool preparation classes this fall! Thank you to the Menomonee Club for their great flexibility in welcoming us and finding space for our many props, art supplies and equipment.
Classic Kids Photography – From years of support, taking our team's headshots to donating their beautiful space for our most recent Halloween event, Monica, Maggie and Julie have been long-time, wonderful supporters of Bubbles Academy. We so appreciate your partnership and friendship! Thank you for supporting us even while you were getting ready for a move of your own! Looking forward to visiting you at your new space in January!
Mike Blumburg with Daniel and Henry Insurance – Mike has gone above and beyond to make sure that our insurance needs were covered during this transition time. We appreciate how he took the time to really understand all of our programming and track our many locations.
Hilary Rhodes Design – Thank you, Hilary, for helping us to visually communicate with families throughout our transition with your thoughtful design work! We are excited to showcase your work on our display windows and billboard soon too!
Pearachute Kids – Thanks to our innovative partners at Pearachute, many of our families have been able to simply keep up with our location changes and new families have learned about Bubbles Academy through their platform.
Tamara Backdrops Art Studio – Thank you to Tamara and Nicole for their beautiful artwork that sets the visual tone for Bubbles Academy! They pour their hearts and lots of talent and hard work into each mural they create. We appreciate them for their understanding of our mission at Bubbles Academy and their ability to create welcoming and whimsical murals to match!
Eckenhoff Saunders Architects and Baker Development Corporation – We're grateful to ESA and our new building owners at Baker Development and Baker Construction for their detailed and thoughtful work on design and construction of our new home! Looking forward to unveiling more details about their progress as we get closer to opening.
Our Amazing Families – Thank YOU so much for your support before and during this transition! It was through talking with our families that we knew we must continue offering our programs in Chicago. We are so grateful for the feedback you've provided to us along the way, the support of our satellite locations and your help in spreading the word about our grand re-opening in January! We cannot wait to share this new space with you.
Our Dedicated Team of Teaching Artists and Administrators – Bubbles Academy's number one strength are our talented and caring team members. They are the back-bone of all we do. I am thrilled and humbled that they decided to join us for this next stage! Last spring, when I shared our tentative next steps, including changes in stability, hours and pay for our interim period, they bravely said, "Yes" to making this next chapter happen. Thank you team, for your love for each other and your students and families!
Our New Ownership Team – We will always be grateful to Bubbles Academy's founders, Gregoire and Kristine Klees for the hard work and vision that brought this business to life thirteen years ago! We also appreciate the opportunity that our most recent previous owners, Rocket Learning, enabled for us to continue running Bubbles Academy and to move it to a new location.
I am thrilled about the great talent and experience we have joining our ownership team to lead us through this next chapter! More details about these individuals to come, but I must give them a huge THANK YOU to them for their willingness to jump in and guide us through this transition.
Brittany and Jerry Graunke – We are very grateful that these busy parents and entrepreneurs are looking out for Bubbles Academy. From helping us negotiate our lease, providing a touchstone throughout our build-out process, and sharing insights on marketing and design, we couldn't be happier to have Brittany, Jerry and their two young children as a supportive part of our team!
Andy Shlensky – Our relocation to 2184 N. Elston would not be possible without Andy Shlensky. Andy is a father and the owner & director of North Star Camp for Boys. We are continuously amazed and grateful for his willingness to help us as a connector, business strategy mentor and supporter. Despite everything on Andy's plate from day to day, he finds time to constantly reach out to help others. Simply amazing! Thank you, Andy!
We are beyond grateful for all of you and excited for the next chapter to come! Wishing you a wonderful Thanksgiving and we'll look forward to seeing you soon!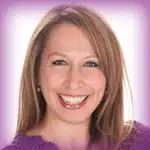 Natalie Monterastelli
Natalie Monterastelli is the Executive Director and Co-Owner of Bubbles Academy. She is passionate about incorporating the skills of improvisation and arts education in daily life, teaching artist development and providing resources and support systems for parents and children in Chicago and