We are excited to share these simple and fun ways to get little ones excited about trying new foods! 
Registered Dietician Nutritionist, Allie Zalay, lead us through making these Thanksgiving recipes for kids, perfect for little hands and taste buds and we had a blast!
Create three turkey treats for kids with a few simple ingredients:


Thanksgiving Snack Bags
What You'll Need
Clear plastic gloves
Colored Goldfish crackers
Mini pretzels
Pipe cleaners
Markers
Googly eyes and glue (optional)
How To Assemble
Fill each "finger" of glove with colored goldfish crackers.
Once filled, add pretzels to make the "palm".
Tie bottom of the glove near the "wrist" closed with pipe cleaner.
Decorate "thumb" of turkey by making a face with markers and/or googly eyes.
Thanksgiving Turkey Sammie
What You'll Need
2 slices whole wheat bread
2 slices deli turkey or leftover turkey breast
2 slices Cheddar cheese
Round cookie cutter
Candy eyes or white chocolate chips
Apple slices
Grated carrots
Pretzel sticks
How To Assemble
Place one slice whole wheat bread on serving plate. Layer with 1 slice turkey, 1 slice cheese and remaining slice turkey. Top with remaining slice of bread. Cut circle out using cookie cutter.
Arrange candy eyes on top of sandwich. Using remaining cheese, cut out triangle nose and place on sandwich.
Place apples and carrots in alternating pattern around top half of plate to look like feathers.
Use pretzel sticks as turkey legs.
Festive Fruit Turkey
What You'll Need
1 Bosc pear
Blueberries
Blackberries
Raspberries
6-8 Wooden skewers
Candy eyes or white chocolate chips
Mini chocolate chips
Honey and/or nut or seed butter
How To Assemble
Cut off bottom of pear so it stands flat on plate.
Add blueberries, blackberries and raspberries onto each skewer. Insert into pear to resemble feathers.
Using honey or nut butter, place candy eyes on front of pear. Add nose using mini chocolate chips.Happy Thanksgiving, Everyone!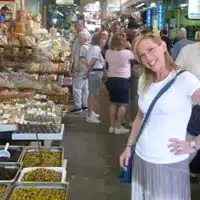 Allison Zalay is a Registered Dietitian Nutritionist with a hands-on approach to nutrition education. Allison found an interest in nutrition and healthy living at an early age, by helping her mom in the kitchen. Her passion for cooking grew further when she worked as an Editor and Registered Dietitian Nutritionist overseeing several cookbook and cooking magazine projects under the healthy living category.
Allison believes healthy eating comes from the start, and nutrition education should begin at home at a young age. We are thrilled to have her offering her workshops and classes at Bubbles Academy for preschoolers and their families!