Repurposed Items Make for Stronger Brain Connections
"Learn the rules like a pro so you can break them like an artist."
– Pablo Picasso
So much of childhood is spent learning about the world around us, when to cross the street, how to use a fork, when to talk and when to listen.  But so much of the magic of childhood is in the spaces in between learning the rules… in the ways we test boundaries, make connections and challenge what we know about the world around us.  One of my favorite parts of teaching and creating arts-integrated curriculum is challenging my own creativity in our use of materials. Can we paint with these cups… how would it look if we scraped forks through paint… what if I cut up these pool noodles?  What kind of designs will these potato mashers make?
In one of our recent projects, we used drinking cups and old playdough containers to help us make circle stamps and designs.   Some caregivers lovingly commented, "Oh thanks Miss Brittny, they're trying to drink out of the cups with paint on them…" and from their paint splotched faces, they had the biggest smiles…we had given them the gift of creative confusion!
Using common household or everyday items for uncommon purposes (painting, stamping, as drums or silly hats) helps to strengthen your brain's corpus callosum or the connection between the two cerebral parts of the brain!  It gets your creative-imaginative-abstract-right hemisphere chatting with your reading-writing-problem solving-left hemisphere to make your child a cognitive functioning superhero! The first function of your child's corpus callosum is to facilitate bilateral communication and as that connection grows, it helps encourage the development of language, attention span and emotional grounding (self regulation).  The more we challenge both the logical and creative sides of the brain to work together, the more it wires and rewires itself to problem solve creatively, and quite literally think on their feet as they learn to engage their brains & bodies in a variety of learning environments.
This is one of the many reasons that you catch us painting with rain boots, broken clappers, fly swatters and toy cars; painting to the beat of a song, assigning sound effects to our paintbrushes; using art time as a means to help calm a tantruming child or standing while we work to engage our bodies and brains simultaneously.
Even more practically, repurposing broken or mismatched items around your home is resourceful, economical and helps to put early recycling practices into place.  My older kids often say to me, "Miss Brittny, this crayon is broken!" "No silly, a crayon never really breaks, it just gets smaller!"  As grown ups, we too can practice daily creative and outside-the-box thinking with our little rule breakers to foster discovery, diffuse frustration, and see the world through their eyes.  This will help to add a little wonder and a lot magic to even the most everyday items. So raise your mismatched shoes and plastic forks to the sky and get ready for a rockin' repurposed artistic adventure!
Don't want to clean up the mess at home? Check out our schedule of Art classes at Bubbles Academy!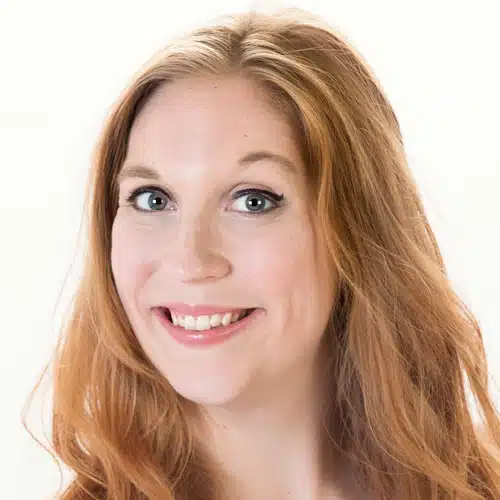 Brittny Congleton
Brittny Congleton, Program Manager & Teaching Artist at Bubbles Academy is a sassy Southern gal from Midway, Kentucky, thrilled to be a part of Bubbles Academy — a place where she feels joyful, goofy and full of life! Studying Drama and Gender Studies at Transylvania University in Lexington, Kentucky prepared her for a versatile career. The road to happiness led Brittny to Chicago in April 2010 to pursue her love of musical improvisation.
She attended Second City Training Center, and currently plays at iO Theatre, collaborates with others in the sketch and clowning community and writes her own original material. Brittny is a company member with Chicago Kids Company, a children's theatre that develops musical fairytales with a twist! She is grateful to have creative outlets in which she has the opportunity to generate young smiles and never has to "grow up" completely.