Abuela, by Arthur Dorros and illustrated by Elisa Kleven is a colorful celebration of imagination and family.
This beautiful bilingual picture book provides a glimpse into a day in the life of Rosalba and her grandmother (Abuela), who "speaks mostly Spanish because that's what people spoke in the country where she grew up, before she came to this country."
Perfect for city kids, they can follow Rosalba's poetic adventures with her abuela on the city bus and to the park where they feed some birds. Rosalba wonders what would happen if the birds picked her up and carried her high above the park. Then she and Abuela take off on an imagination adventure around the city, peering at people, animals and buildings while also giving a glimpse into Abuela's journey immigrating to the United States.
This book seamlessly weaves Abuela's Spanish translations with the vivid tale and pictures, engaging even the youngest of readers. A glossary at the end of the book provides an additional way for parents (and grandparents) to engage in language learning with children.
I love the celebration of family, culture and everyday whimsy that comes through in Rosalba and her abuela's adventures. They remind us that sharing in family rituals, stories and imaginative play can be some of the best gifts we provide our children – and grandchildren.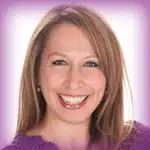 Natalie Monterastelli
Natalie Monterastelli is the Executive Director and Co-Owner of Bubbles Academy. She is passionate about incorporating the skills of improvisation and arts education in daily life, teaching artist development and providing resources for parents and children in Chicago and beyond.