Between the ages of 0-3, your child's brain is developing at an exponential rate! They are learning from every stimulus and bonding experience you expose them to from birth. Through attention, responsive care, repetitive and novel activity, you can help your child build healthy brain connections.
However, not all music classes are the same! A recent study by McMaster University, "found that babies who participate in interactive music classes with their parents smile more, communicate better and show earlier and more sophisticated brain responses to music."
At Bubbles Academy, our Music: Babies class is designed specifically for this stage of development and your instructor will guide you through interactive songs, live music and movements that are fun in class and a great way to continue your little one's development at home.
Along with the benefits for your baby, we invite caregivers to form new connections, ask questions and have a chance to hear from your child's teacher and other parents and experience helpful connection during the months postpartum.
Here are 5 benefits of baby music and sensory classes:
1. Cognitive Development
Interaction and bonding is key at this early stage. Our baby music class supports healthy brain activity as your baby is exposed to a new environment, faces and sounds, as well as new movements and stimulation. Learn ways to play with and engage baby, while also providing space and quiet attention to let her explore and grow.
2. Sensory Development
Sight, Sound, Touch, Vestibular and Proprioception 
Your baby is taking in information through each of her senses. Those senses inform each class activity and by the end of class, your child will have experienced well-rounded and gentle diet of sensory input to help calm and challenge. Music class is not just about instruments. Our teachers introduce a wide variety of props, textures and movements to activate and strengthen new connections in your little one's brain.
3. Language Development
Frequency and exposure to language is number one in terms of helping your child develop language! Music: Babies is flooded with songs and rhymes that provide your child with the opportunity to imitate both rhythm, pitch and syllables even before they are able to make formal speech sounds. Your teacher introduces baby sign language practice. The symbols, gestures and eye-to-eye contact involved in signing with your baby provide a strong foundation for his or her language development.
4. Physical Development
During our exploration of music, we experiment with mini shakers and instruments to develop fine motor skills and to gauge your child's response to sounds. Our finger plays are easily learned songs that incite active clapping and kicking, as well as benefit language development. Tummy Time during class strengthens young muscles, and it develops your child's wrist strength, which is necessary for fine motor skills. Joy-filled group dances focus on your child's core and strengthen their head, neck and shoulder muscles. Bouncy songs, sung while baby lays within the lap, encourage rocking side to side to help build the gross motor ability needed to move into a seated position from a side-lying pose.
5. Social Emotional Development
Babies are continuously discovering ways to communicate and connect with their caregivers. In class, we concentrate on connecting with our babies through eye contact, peek-a-boo, games and songs. Babies also learn to connect with their teacher and experience learning to trust another adult that cares for them. Music class is a time when parents and caregivers can unplug and just focus on having a bonding experience with their little ones. We encourage eye contact, expression and singing directly to your baby, which helps them to recognize and understand facial and physical cues earlier.
At Bubbles Academy, we are passionate about making sure that our classes reflect all that we know about the latest research in child development and are tailored to fit your and your child's needs. All of our music curriculum is created in house, lead by our Senior Director of Music, Kim Schiefelbein, with input from our music team.
Ready to experience a class with your little one? Join us for a class designed for your child's stage of development for pre-crawling, crawling or walking babies, or family music for a multi-age experience!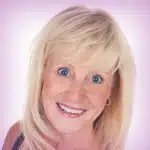 Kim Schiefelbein
Kim Schiefelbein is the Senior Director of Music at Bubbles Academy, where she has been teaching for the past 12 years. Kim collaborates with the music team to create enriching curriculum that will entertain, engage and enrich young children and families.